F.A.Q.
Questions and Answers about
Gregory Feedlots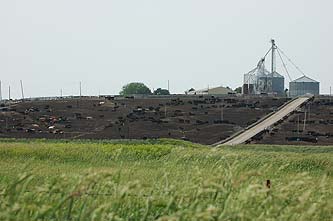 We will start with PRE-ARRIVAL for calves. We recommend a VACCINATION program using 4-way modified-live vaccines, pasteurella vaccine, somnus, and 7-way vaccine. This should be followed up with a revaccination in 14 to 21 days. Ideally this processing would be done before any time of high stress on the calf. First one before weaning and the second after they have been weaned 2 weeks. A non-TBA implant and dewormer should be administered with the second vaccination. If you are interested in carcass data you need an individual ID. Calves should be started on a balanced starter ration and gradually increased on higher grain rations. They need to be held for 45 days, then moved to GFL.
Upon ARRIVAL your cattle will be weighed on the truck, counted and placed in a pen with long stem hay and a small amount of STARTER RATION. This ration for calves will be a pelleted medicated product mixed with ground hay. Your calves will be processed according to their previous history, within 24 hours. We will match the vaccination and implant program that has been done on your farm. On calves that have had our recommended program we will normally BOOST with 4-way modified live and somnus vaccines. Cattle will be individually weighed and identified with GFL or EID tags if needed.
A CUSTOMIZED TOTAL MANAGEMENT PROGRAM for your cattle will be developed upon arrival. We will appraise the cattle visually. We will look at any previous history, genetics and management information available. Then together we will PROJECT; cost, performance, days on feed, implant program, vaccination program, market goals, financing needs, risk management and information gathering needs. We will provide you with a projection allowing you to make the necessary decisions about marketing and risk management.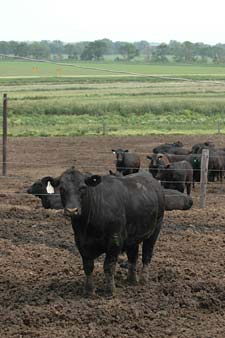 There will be some PAPERWORK needed. GFL has a feeding agreement that states the responsibilities of GFL and an Exhibit A document that verifies and identifies your cattle on feed at GFL. You will have to sign these forms and if you are financing either or both the cattle and feed costs you will have to sign a promissory note. If you are interested in financing 70 % of the value of your cattle we will need a current financial statement. A lien search will be done on any cattle that are being financed and a UCC will be filed in Iowa and in your state (if different from Iowa).
GFL CUSTOMIZED HEALTH PROGRAM begins immediately after your cattle arrive. We will check your cattle twice daily for the first couple of weeks then once daily the remainder of the feeding period. Any cattle that are in need of treatment are pulled and moved to the hospital pens. Our VETERINARIAN will diagnose and treat each animal. Each individual will be tagged with an EID tag and its diagnose, weight, temperature and treatment will be recorded in the computer program. This provides a complete individual animal and pen health history that is monitored to assist future treatments. Each animal will remain in the hospital pen until treatment is completed then put back to its home pen. Any animal that is pulled for the third time is evaluated as to whether to continue treatment or to move to a recovery pen. The veterinarian makes this decision after reviewing treatment history and animal condition. DEATH LOSS at GFL averages less the .5% for yearling cattle and is less then 1% in home raised preconditioned weaned calves but varies by previous management practices.
GFL CUSTOMIZED NUTRITIONAL MANAGEMENT program guides your cattle to market. Bunks are checked each morning and the amount of feed for your cattle is determined. Your cattle are started on a high roughage ration and are moved to incrementally lower roughage/higher energy rations. This step up program is managed based on days on feed, intakes, health, genetics and implant programs. The RATIONS are formulated by independent consulting nutritionists. We use several different formulations that can be matched to the sex, genetics and implant programs of your cattle. We customize the energy and protein levels to individual lots. The INGREDIENTS we use are dry rolled corn, ground high moisture corn, ground alfalfa hay, corn silage, wetcake, corn distillers syrup and protein supplement. The ingredients are mixed on a truck with computerized scales. The feed is then delivered to your cattle a minimum of two times a day. The amount delivered is recorded and given to the office to be recorded in the computer program that predicts performance and prepares billings.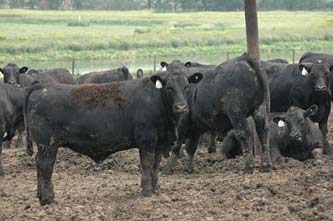 BILLING is done on the 1st and 16th of each month. Bills will show days on feed, death loss, daily consumption, medication cost, processing cost and to date totals. If your cattle or feed is financed the amount of interest will show on each bill. The interest on feed bills will start after the bill is two weeks old.
GFL CUSTOMIZED MARKETING of your cattle begins when your cattle arrive at GFL. When your cattle approach the marketing date we observe the cattle for finish and make the decision to put part of or all the cattle on the show list. We will let the packer buyers look at your cattle and give us their opinions. At this time we will advise you and decide what is the best plan for you. Then we will ask for bids on the cattle. We will get your input on the bids and make the best decision together.
We try to market cattle at .4 inch backfat not on individual weight. We will sort a pen as many times as is necessary to achieve maximum value. We will sell on live weight, hot carcass weight or on grids. We can get carcass data with any marketing plan. Once the cattle are sold a delivery date is set. On that date the cattle are loaded and weighed at GFL. We sell live cattle with a 3% shrink in the AM and 4% in the PM. For cattle sold on hot carcass weight or on grids these shrinks will be use to figure percent yield.
GFL CUSTOMIZED REPORTING on your cattle also begins the day your cattle arrive at GFL. In an effort to partner with our producers to understand herd profitability on an individual animal basis and/or herd level, we provide our customers data that provides them the ability to make sound production adjustments to increase the value of individual animals and overall rate of return for future herds.
Data collection for GPMP can be segmented into five phases:
conception - genetic makeup, management practices, conception rates, nutrition program, health program, individual animal identification (provided by producer)
birth - live calving rate, management practices, nutrition program, health program, birth weights, birth dates, individual animal identification (provided by producer)
weaning: weaning weights, management practices, nutrition program, health program, weaning dates, individual animal identification (provided by producer)
feeding: on-feed weights, on-test weights, re-implant date weights, market weights, consumption, individual animal identification, days on feed, management practices, nutrition program, and health program.
carcass: hot carcass weights, ribeye area, backfat depth, KPH (kidney, pelvic, heart) fat %, marbling score, quality grade and yield grade
Utilizing the data collected, we uniquely rank each animal based upon the Retail Value Average per Day on Feed (RVAD-F) which is a calculation based on the marketable boxed beef production per day as an animal is gaining weight. This calculation has proven an 85% correlation to profitability. We can then produce a variety of stats focusing on sire productivity, breed stock, birthing month, etc. This data allows producers the ability to scrutinize individual animals in their breeding herd and assist in evaluation of culling, replacement and genetic selection practices to achieve their management goals.
PAYMENTS for marketed cattle are sent to nonfinanced owners directly and to GFL on all financed cattle. We will deduct the amounts owed and send the remaining amount to the owner. At this time a CLOSEOUT is produced. It will show the actual results of the performance and cost of feeding your cattle. This will have rate of gain, conversion, intakes, days on feed, cost of gain including all costs incurred at GFL, in weights, and out weights. This can be compared to the original projections done at the start of the feeding period. This is the first information needed to analyze your cattle and GFL's performance. Performance projections and actual performance will provide important information. Next if you wanted carcass data, the level of analyses can be increased. This information can provide analyses of GFL's marketing plan and of the genetic ability of your cattle. We will help you analyze any of this information to improve our program and improve your cattle.