Alliances
GFL has developed many alliances to help it stay at the forefront of providing quality services to its customers. These alliances include:

Certified Angus Beef (CAB) Program
GFL is proud to be a part of one of industry's leading value-added marketing programs as a Certified Angus Beef Program partner feedlot. This partnership enhances our customers' access to the world's most successful specification-based, branded beef marketing program. This program provides a great way for our Angus cattle feeders to capture more value for the cattle they market. This program is also provides a carcass data collection service which is an excellent source of information that retained owners can use to improve herd quality.
---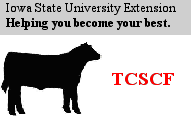 GFL has been fortunate to be associated with Tri-County Steer Carcass Futurity Cooperative as a selected feedlot. TCSCF is a cooperative effort of the TCSCF board, Iowa State University Extension and southwest Iowa feeders. The principle objective of TCSCF is to provide the information beef producers can use in managing and marketing their product. They specialize in detailed data collection and analysis for cow-calf producers of all sizes. TCSCF is an excellent program for producers to use to collect specialized and complete breeding herd to finished animal information.
---

GFL is a Nichols Farm Alliance Feedlot. Nichols Farms' association with Merial SUREHEALTH and ADM Alliance Nutrition offers you opportunities to produce value-added cattle that will excel under GFL's Customized Total Management Program. Nichols Superior Genetic cattle fed at GFL qualify for Nichols Value Added Marketing Programs through Iowa Quality Beef and U.S. Premium Beef (USPB).
---